Welcome to Neopets Kisses where you'll encounter the best in neopets graphics, tutorials and finders.

Brain Tree Quest
The Brain Tree sits alone in the haunted woods... he is the only tree to have developed intelligence, and he thirsts for knowledge. If you accept his quest, he will ask you a question, your quest being to find the answer in a limited amount of time. It is said that the quests are very difficult... but worthwhile!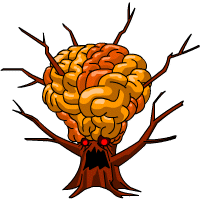 First off, go to the Brian Tree, located in the Haunted Woods, and accept his quest.
Now go to the Esophagor, also located in the Haunted Woods, and push "Sure I will find you food." Go buy the items he wants you to get for him, and go back to the Esophagor, and give it to him. He will tell you the first part of the answer to the Brain's Quest. To get the second part of the answer, do one of his quest again, and write that part down also.
Now go back to the Brain Tree, and type in the answers. If you got the answer right, even though you should, you would get a prize.
Brain Tree Quest
© 2005-2006 Neopets Kisses | Some images, names, logos, etc, © 1999-2006 Neopets, INC. All Rights Reserved. Used With Permission. Misspellings: noepets, npets, noepts, neopest, neopts, eopets, nopets, nepets