Welcome to Neopets Kisses where you'll encounter the best in neopets graphics, tutorials and finders.

Golden Dubloon
The Golden Dubloon is a restaurant located in Krawk Island. It'sm kind of like Kelp, located in Maraqua, but you pay in Dubloons.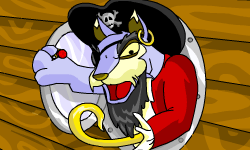 Here are a list of food for your neopets it has for sale, and there cost. Remember all prices are in Dubloons!.
Starter Courses
| | | |
| --- | --- | --- |
| Image | Name | Price (In Codestones) |
| | Double Stuffed Guppy | 5 |
| | Crusty Clam Suprise | 3 |
| | Tropical Breeze | 1 |
| | Oyster Obsession | 2 |
| | Caesar Salad | 1 |
| | Shiver Me Shrimp | 3 |
| | Tomato Cannonball | 2 |
Main Courses
| | | |
| --- | --- | --- |
| | Baby Bloater | 3 |
| | Headless Horsefish | 5 |
| | Slithering Squid Suprise | 3 |
| | Barnacle Bill's Belt Busting Burger | 4 |
| | Bilge Rat Maeira | 4 |
| | Loretta Fontaine's Perfect Pizza | 5 |
| | Cap'n Threelegs Cutlass Crusade | 9 |
| | Our Famous Krawk Pie | 5 |
Desserts
| | | |
| --- | --- | --- |
| | Pinanna Paradise | 4 |
| | Blueberry and Oyster Ice Cream | 3 |
| | Squid on a Stick | 3 |
| | Joy Fun Pops | 3 |
| | Kraku Berry Cove | 2 |
| | Forbidden Plunder | 3 |
Cocktails
| | | |
| --- | --- | --- |
| | Grog Light | 2 |
| | Fruity Grog | 2 |
| | Bottles of Pop | 2 |
| | Man-o-War | 2 |
| | Keel Haul | 2 |
| | Cannon Fodder | 2 |
| | Walk the Plank | 2 |
| | Land Lubber | 2 |
| | Hogshead | 2 |
Golden Dubloon Restaurant, Krawk Island
© 2005-2006 Neopets Kisses | Some images, names, logos, etc, © 1999-2006 Neopets, INC. All Rights Reserved. Used With Permission. Misspellings: noepets, npets, noepts, neopest, neopts, eopets, nopets, nepets