Welcome to Neopets Kisses where you'll encounter the best in neopets graphics, tutorials and finders.

Money Tree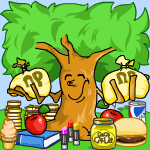 For most Neopians getting items in the money tree is very difficult for them and it's probably difficult for you to. This guide will help you have a greater chance of getting an item so you would most likely get an item when you go there. There are two different ways to getting the items quicker.
1st Way:
The first way you could've get an item is by going to the money tree and picking an item at the very bottom of the page as fast as you can. Other people tend to try to get the very first item which makes it the least percentage of getting. The bottom item would have a greater advantage because less people tries to get the last item in their.
2nd Way:
The second way is a little more different from the first one. Now instead of clicking the last item, you would move your mouse over the last item. Try putting your mouse over an item at least in the second to third row but do not click it. Now click F5 on your keyboard. Now after the page loads just click your mouse as fast as you can. This tactic would be best if you were on a fast internet connection. If you had gone to the very bottom and rolled over the very last item which is probably in a sixth row then when you had refreshed the page, the page would probably have four rows of items which would cause you to not getting it as fast as you would.
Now hopefully you will have a greater chance at getting a item in the money tree after reading this. Good Luck. :)
- Guide By Onias -
Neopets Money Tree
© 2005-2006 Neopets Kisses | Some images, names, logos, etc, © 1999-2006 Neopets, INC. All Rights Reserved. Used With Permission. Misspellings: noepets, npets, noepts, neopest, neopts, eopets, nopets, nepets