Welcome to Neopets Kisses where you'll encounter the best in neopets graphics, tutorials and finders.

Petpet Laboratory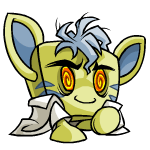 The Petpet Laboratory is like the Pet Laboratory but it's for your petpet instead. Like the Pet lab ray, it can transform, and do many other things to your petpet in this case. It is only useable if you have all the pieces to the PetPet Lab Map, and when you already have access to the regular Pet Lab Ray. This is what the Lab Map looks like when it's all together:
The Lab Rap maps are relatively cheap, it usually will not cost more then 25,000 neopoints. You can get the lab ray maps by buying it in the Trading Post, at the Auction House and at user stores. You may also find them on the ground if you are lucky. :) Once you bought all the pieces, click here, and you will be able to zap your petpet. The Petpet lab Ray can:
Change your Petpets color
Change your Petpets name
Do nothing
Change your Petpet species
Increase your Petpets levels
Decrease your Petpet levels
Turn your Petpet into a pile of Scoot
Make your Petpet disappear into oblivion.
Also please note that if you unattach your Petpet, it changes back to it's original version. And also if you zap your petpet, it can no longer win PPL awards.
Petpet laboratory
© 2005-2006 Neopets Kisses | Some images, names, logos, etc, © 1999-2006 Neopets, INC. All Rights Reserved. Used With Permission. Misspellings: noepets, npets, noepts, neopest, neopts, eopets, nopets, nepets